For a mere $75 dollars, I am going to see five brand new, world class productions during the 2008-2009 theater season in New York. I am going to witness first hand the unveiling of set designs from some of Broadway's top artists; I am going to revel in the magic of watching some of the greatest performers on the planet bring down the house; I am going to see classical masterpieces and modern game changers.
And where am I going to be able to do all of this for a mere $75?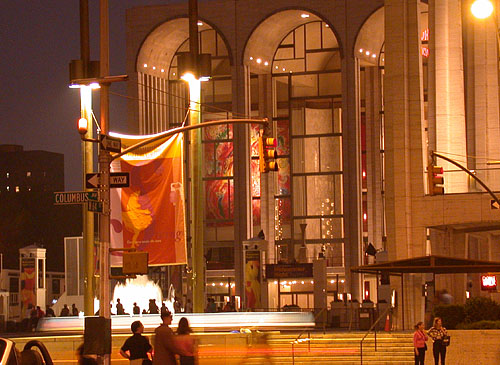 At the Metropolitan Opera.
Now before you roll your eyes and page down, I ask you to join me after the jump, where I will prove, unequivably, that opera is truly the art form of the masses.
First, let's start with a quiz. Do you like any of the following:
Romance
Betrayal
Mythology
Tragedy
Intrigue
Politics
Sex
History
Redemption
Fantasy
Moral Ambiguity
Royalty
War
Philosophy
Comedy
Humanism
Satire
Love
Devotion
Evil
Adventure
Torture
Science Fiction
Existentialism
Insanity
Saints
Sinners
If you have answered yes to any of these, there is an opera out there for you.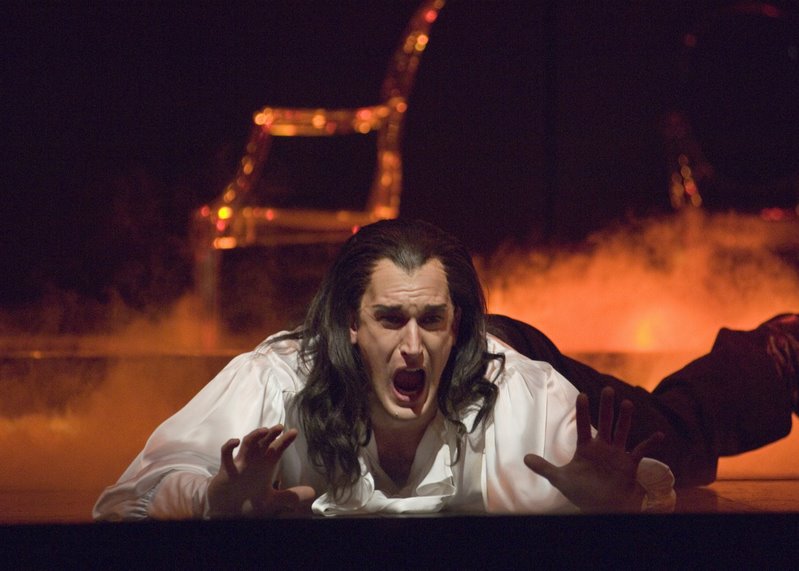 (Don Giovanni learns the hard way about consequences)
Beginning with Mozart, and blazing through the 18th and 19th centuries, opera was the primary source of entertainment for the masses- rich and poor alike. Opera singers were the coddled celebrities of their day, and they attracted a fan base no less devoted than out modern fan boys and girls. Popular arias were performed by amateur singers at home for guests. The plots were chosen to speak to the hearts and minds of the people, to inspire (Beethoven's Fidelio embodied the ideals of post-Revolutionary France), to instruct (Mozart's Don Giovanni is a scathing indictment of the moral flippancy of the upper classes), to delight (Donazetti's La Filled du Regiment is an uproarious comedy in which everyone ends up happy), to motivate (Wagner's operas were a nationalistic triumph that celebrated the beauty of the German language and culture) but ultimately to entertain- if an opera was not entertaining, then it would fail. End of story.
(Angry peasants after a dissappointing performance)
With the rise first of Vaudeville, then of Broadway, and finally of radio, film and television, opera was relegated to the social elite. Operas became more like museum pieces than the vibrant embodiment of their times. The fact that most of the canon is in one foreign language or another did not help matters, as America strove to set itself apart from its European roots and prove the primacy of American entertainment. Opera became the domain of 'old money,' staid and unchanging, a small enclave in the arts that represented an earlier time, one which its followers liked to keep separate from the more "American" forms of entertainment, if only to prove their cultural superiority over the masses. And so, it seemed opera in America was doomed to slowly slip away.
And then along came Peter.
(Peter Gelb- Opera Hero!)
In 2006 Peter Gelb was appointed General Manager of the Metropolitan Opera, and he had a plan to bring opera out of the shadows and into the mainstream consciousness once more. 2006 was a big year for the Company. His first move was to hire top Broadway directors to stage new productions- to breathe new life into aging pieces and to shift focus to the acting and presentation so that the operas would have an appeal beyond musicality. He increased bookings for the top talent in the world, so that nearly every performance had some star power behind it. He instituted a new artist commission program, to ensure that the Met will begin hosting world premieres once again. His next move was more radical. For the 2006-2007 season, Gelb ran a print advertising campaign; the city was plastered with beautiful red and white photographs from the new production of Madama Butterfly, which was the centerpiece of the new production schedule. He instituted live HD broadcasts, where an opera performance is transmitted live around the world into movie theatres, ensuring that people around the world could watch Met performances from the comfort of their local movie theatre. In other words, Gelb made mass appeal the by-word at the Met Opera: if the people aren't coming to the Met, then we're going to bring the Met to the people.
But most importantly for us, my Art and the City Friends, Gelb slashed prices for the economy seats at nearly every performance (there are special prices that apply to galas and production premieres). You can get a seat at the Met Opera, where the acoustics are so good and the stage is so large that it doesn't matter where you sit, for $15. Compare that to the $60+ dollars you'll pay for a nose bleed/partial view seat at a Broadway theatre. Yup, Peter Gelb is bringing opera back to the people, and I couldn't be more thrilled.
(Madama Butterfly- Looking fly)
Now, I can hear you saying to yourselves "That's all well and good, but it doesn't change the fact that we're talking about opera here: foreign languages, fat ladies singing, and hours and hours with very little plot." So here are my top five reasons for giving opera a chance:
5. Super Titles: Modern opera goers need no longer worry about the language barrier. In addition to there being a growing collection of English language operas (this season I'll be seeing Dr. Atomic, an opera in English about the invention of the atomic bomb) the Metropolitan Opera offers real time translations of every performance in English, Spanish and German. Even more awesome, the translations are displayed in the back of the seat in front of you. That's right, you have your own personal translator that you can turn on or off at will, and you won't be distracted by anyone else's. Pretty sweet.
4. Music as Emotion: One of the top complaints that people level against opera is that it is utterly unbelievable that people would be singing all the time. I think this is entirely the wrong approach: it's like complaining that Shakespeare's characters wouldn't talk to themselves that way. The music in an opera is a vehicle for the emotional undertone of a scene, the way a soliloquy in a play allows you to get at the inner thoughts of a character. If you accept the music as its own character, instead of an annoying contrivance, the entire emotional content of the opera becomes available. Imagine the dramatic irony of hearing Desdemona singing her undying love to Othello, but underneath her sweet melody there are tense and biting bass chords that let you know just how little Othello trusts her(Verdi's Otello). In the stage play you have to wait until Othello's monologue to know what he is thinking- in the opera it all plays out at once.
3. Better Crowds: Until fairly recently, it was considered high treason to enter the Met in jeans, and the slightest sniffle would earn you the dirtiest of looks from your neighbor. But as the Met has worked on its image and outreach program, the old crowd has been supplanted by one slightly more easy-going. You can dress as fancy or as casual as you like, and a sneeze or two isn't going to get you kicked out. Respect your neighbors and the performers, and you'll be just fine (Though I wouldn't recommend talking during a performance- the aforementioned acoustics means your whispered conversation can reach the whole theatre- and then there'll be hell to pay).
2. The Talent: It takes at least 10 years of intensive study just to be considered a professional opera singer. It takes another 5-10 to become a mature opera singer who can land lead roles with a reputable company. Think about that for a second- at least 15 years before you can begin to make waves in the business, and even then you might not get anywhere. These people are dedicated. And the Met takes only the best of the best. They are the masters of their craft- they can do things with their voices live on stage that cannot be believed. Moreover, the Met is now pushing to develop the acting side of the performers- this past season Natalie Dessay completely unnerved audiences with her performance of the mad scene in Lucia di Lammermoor. And as the successes keep piling up, it'll only get better.
1. Opera Has It All: I truly believe that opera is the only form in which all of the arts come together in an awe inspiring spectacle. Music, dancing, visual art, architecture, engineering, and increasingly video and graphic design- all are needed to create a memorable performance. Whatever type of art you're into, it is likely that you will find it on the stage at the Met, and you can be sure that it will be in its highest form.
(Natalie Dessay in Lucia di Lammermoor- Looking crazy)
I saw my first opera when I was sixteen, and I have been enamored ever since.* There are operas that I have found dull, and singers that failed to inspire me, but even at the worst performances I have seen there was something to marvel at. This season is the Met's 125th Anniversary, and it looks to be an exciting few months. Maybe its time you gave opera a try- you don't know what you're missing.
You can learn more about The Metropolitan Opera at: http://www.metoperafamily.org/metopera/
*I saw La Traviata on a high school class trip, and it remains my favorite opera of all time. Also, I think it's a great introductory opera- who doesn't love the story of a hooker with a heart of gold?